Latest News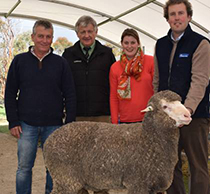 $26,000 Sale topper

PIMBENA was part of a syndicate of semen shareholders who along with John Beasley, Franklin River WA, purchased Wallaloo Park 150245 at their 2016 On Property Sale
---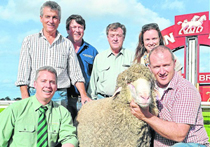 $51,000 Sale topper

PIMBENA brings home top priced ram at the 2013 Classings Classic.
This year's 130-kilogram topper had shown his growth potential early, with a weaning
weight of 69 kilograms – 20kg more than the average of Glenlea Park's 2012-drops. ... more


---
pimbena posts stud record

WIDESPREAD buying support for plain-bodied sheep with quality skins pushed Wirrulla Poll Merino stud Pimbena to a stud-record average of $1157 at its on-property ram sale on August 1.
The stud's 2013 average was a $165 improvement on last year's sale. The top price also increased, with two rams getting knocked down at $2800 – $800 up on the 2012 top.
... click here to read full story
2019 Calendar

Will be attending the EP Merino and Poll Merino Expo at Wudinna on July 8th 2019.
Pimbena On Property Sale will be held on 31st July 2019.
Pimbena Poll Merino Stud
---
Site updated:
22th July 2019
Poll Flock Number: #601048
Blood Line: Founded on Nyowee and Pollville in 1987.
Breeding Ewes:700
OJD Status: First and second injections.
Inspection: By Appointment.
Pimbena Poll Merino Stud is located near Wirrulla in South Australia. Owned and operated by Leslie Hamence, Pimbena is located in a prime cropping area with undulating sandy loam with sand hills and hard flats. The area experiences 300mm annual rainfall.



above: john pearson, who has been a local shearer for 40 years, shearing GP 395.




Above: wool from GP 395.
Fleece Weight - 7.1kg, 85mm @ 7 months wool

---