Latest News
PIMBENA 170509 ACES 2019 DROP SA SIRE EVALUATION TRIAL

PIMBENA 170509 recently took part in the 2019 Drop SA Sire Evaluation Trial and returned outstanding results, proving to be the highest performing sire in a number of traits.
---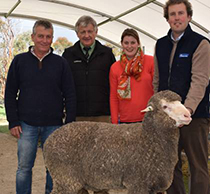 $26,000 Sale topper

PIMBENA was part of a syndicate of semen shareholders who along with John Beasley, Franklin River WA, purchased Wallaloo Park 150245 at their 2016 On Property Sale
---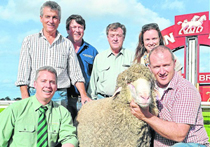 $51,000 Sale topper

PIMBENA brings home top priced ram at the 2013 Classings Classic.
This year's 130-kilogram topper had shown his growth potential early, with a weaning
weight of 69 kilograms – 20kg more than the average of Glenlea Park's 2012-drops. ... more


---
2020 Calendar

Pimbena On Property Inspection day will be held on 13th July 2020.
Pimbena On Property Sale will be held on 29th July 2020.
Stud History
---
| | | | | |
| --- | --- | --- | --- | --- |
| FOUNDED | 1987 | | | |
| 1987 | NYOWEE | 90 | EWES | BOUGHT |
| 1987 | POLLVILLE | 29 | EWES | BOUGHT |
| 1987 | WIRRAMBIE | 25 | EWES | |
| 1987 | POLLVILLE | 2 | RAMS | |
| 1988 | NYOWEE | 90 | EWES | |
| 1989 | NYOWEE | 2 | RAMS | |
| 1989 | MULLOORIE | 1 | RAM | |
| | | | | | |
| --- | --- | --- | --- | --- | --- |
| | STUD | TAG | PREFIX | SGA NO | |
| | | | | | |
| 2002 | NYOWEE | E430 | | | |
| 2003 | | ROE 019 | 601127 | 2002020019 | |
| 2005 | | FD 144 | 600015 | 2004040144 | |
| 2006 | | ROE 282 | 601127 | 2004040282 | |
| 2007 | | CAL 047 | 601336 | 2005050047 | |
| 2007 | | LEA 123 | 600815 | 2003030123 | AI |
| 2007 | | TOL 1050 | 601082 | 2004041050 | AI |
| 2008 | | LEA 16 | 600815 | 2007070016 | |
| 2010 | RAMSGATE | F100 | 505053 | 2009090100 | |
| 2010 | | CAL 077 | 601336 | 2009090077 | |
| 2010 | DERELLA DOWNS | DD 563 | 601381 | 2009090563 | |
| 2010 | RIDGWAY ADVANCE | RA 071 | 601307 | 2009090071 | |
| 2011 | | NANT 232 | 601367 | 2010100232 | |
| 2012 | | LEA 858 | 600815 | 2011110858 | AI |
| 2012 | | CAL 042 | 601336 | 2011110042 | |
| 2012 | | GP 004 | 601382 | 2009090004 | AI |
| 2013 | | GP 395 | 601382 | 2012012395 | |
| 2013 | SOUTHROSE | SR 687 | 601020 | 2012120687 | |
| 2013 | | KP 037 | 601244 | 2012120037 | |
| 2013 | | CAL 169 | 601336 | 2012120169 | |
| 2013 | | CAL 132 | 601336 | 2012120132 | |
| 2014 | | KP 149 | 601244 | 2013130149 | |
| 2014 | | SR 405 | 601020 | 2013130405 | |
| 2014 | RAMSGATE | RG 390 | 505053 | 2013130390 | |
| 2014 | | GP 071 | 600880 | 2013130071 | |
| 2014 | SOUTHROSE | SR 297 | 601020 | 2014140297 | |
| 2015 | | EM 420 | 601450 | 2014140420 | |
| 2015 | | CAL 077 | 601336 | 2009090077 | |
| 2015 | | LEA 2170 | 600815 | 2014142170 | |
| 2016 | | PIM 141 | 601048 | 2016160141 | |
| 2017 | | PIM 509 | 601048 | 2017170509 | |
| 2018 | | PIM 311 | 601048 | 2018180311 | |
| 2018 | | PIM 417 | 601048 | 2018180417 | |
| 2019 | | PIM 007 | 601048 | 2019190007 | |
| 2019 | | PIM 371 | 601048 | 2019190371 | |
| 2019 | | PIM 379 | 601048 | 2019190379 | |
| 2019 | | PIM 321 | 601048 | 2019190321 | |
| 2019 | | F 212 | 600015 | 2019190212 | |
| 2020 | | PIM 249 | 601048 | 2020200249 | |
| 2020 | | PIM 489 | 601048 | 2020200489 | |
RAMS SOLD TO:
Willcannia, NSW
Upper North, SA
South East, SA
Yorke Peninsula, SA
Eyre Peninsula, SA
stud rams sold to:
Orrie Cowie
Minta
Nantoura
---